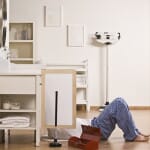 So you're interested in buying this 3-bedroom house because of its wonderfully renovated kitchen or bathroom, and you're willing to pay top dollar for it. However, you may need to hold your horses before signing anything, because shiny and sparkly bathrooms and kitchens don't necessarily mean excellent plumbing. For all you know, underneath those shiny exteriors are hidden plumbing problems that could rear their ugly heads at the most inopportune times and cost you thousands of dollars in repairs.
To make sure you are not buying a home with hidden plumbing problems, you need to spot them before money and documents change hands. Here are some ways to do just that.
Find out who did the Kitchen or Bathroom Renovation
The idea is simple: reputable bathroom renovators = well-done plumbing work. If the work was done by a cheap builder, it is quite possible that some corners were cut to save on building costs, and that is never a good thing. Aside from the renovator itself, you also have to ask about when the renovation was done and if any plumbing issues were found.
Look for Evidence of Sloppy Workmanship
Sloppy workmanship is a clear indication of a bathroom or kitchen renovation done by less-regarded builders. So if you see messy grouting, tiles that don't line up or obviously poor finishes, it's highly likely there are hidden plumbing problems underneath all that shoddy work.
Check the Quality of the Fittings
For this, you have to know a little about reputable brands of plumbing fixtures. Know which brands adhere to Australian standards. If you don't recognise the brand of the fittings in the bathrooms, kitchen and laundry of the house you're eyeing, do some research and find some reviews. You'll be fine if they're all high quality, but you're going to have a problem if they're not, as cheap and low quality fitting last only a year or two.
Check the Paint Job
While it's but natural for a home owner to spruce up the property with a paint job, there is also the possibility that it was done to hide wall stains that indicate damp. So check the newly-painted walls and ceilings, particularly in rooms that you think have problems with rising damp.
Obtain a Copy of the Drainage Diagram
Drainage diagrams are supposed to be updated with any changes done to the drainage. When no changes are reflected in the diagram despite the obvious fact that there was some renovation work done, especially on an older structure, this should ring some alarm bells. It could be that the older pipes were never replaced or they just attached new fixtures to old plumbing, or that the plumbers who did the work never bothered to do the update, which speaks volumes about the kind of tradespersons that they are.
These tips, however, do not compare with having a professional emergency plumber check the plumbing of the house you're eyeing. With the opinion of a professional, you will be able to spot potential problems, compute the possible cost of fixing them in the future, and use that figure as a negotiating tool to lower the price on the property.