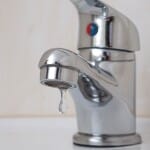 It's really unsettling how the sound of water dripping from a leaking tap tends to magnify itself a few dozen times over, especially at night when you're trying to sleep. Your leaking tap might as well be hooked up to your stereo system for all the loudness it manages to muster.
More than the annoying noise it makes, however, all that water dripping from your leaking tap is a terrible waste of water. In a world where a significant percentage of the population still has no access to clean water, it is mighty irresponsible for us to not do anything about that leaking tap and just let it waste all that water away.
Incalculable Water Wastage
In case you didn't know, a leaking faucet can waste up to 20,000 liters of water a year, which is a staggering figure no matter how you look at it. When you think of all the other homeowners in Australia who choose to ignore dripping taps, that water wastage becomes absolutely astronomical. The skyrocketing water bills of homeowners with neglected leaking taps are beside the point. All that water wastage amounts to a crime against the environment, and if you neglect your leaking taps, you are most certainly guilty of that crime.
The thing is, wasting all that water because of a leaking tap can be completely avoided if only you give it your attention as soon as the problem becomes apparent. A leaking tap is something that a skilled and experienced plumber can easily fix. With one call, those nights of magnified dripping sounds that have been driving you nuts will go away, your water bill will be back to normal and most importantly, you will be doing the environment a huge favor.
Seek help from Professional Plumbers
Should you need help with a leaking tap, all you have to do is call us at Beez Neez Plumbing. We have a team of professional plumbers who have already fixed thousands of leaking taps between them. With all that experience combined with their skills, fixing your leaking tap can be done quickly, cost-effectively and in keeping with our highest standards of quality.
Whenever possible, our professional plumbers will try to service or replace internal components such as washers to stop the leaking, using only quality parts that give us the confidence to fully guarantee our work. In some cases, however, they may have to replace the entire tap, and that is something they can easily do for you too. To help you reduce your water bill, they may also install water-saving aerators while fixing your leaking tap.
Fixing leaking taps is just one of the many things that our team of professional plumbers can do for you. In case you want your bathroom or kitchen to look even more fabulous, we can totally help with that by updating your tap-ware. Or, we can update the entire bathroom and kitchen for you, if you choose to.
So if you ever need a friendly Chatswood plumber, call us at 0438 800 711, and we'll send one your way as soon as we can to help you with a leaking tap or other plumbing emergencies.