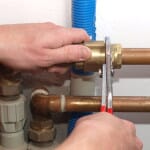 When faced with a plumbing concern, the best thing you can do is hire a plumber straight away before the problem gets any worse. However, you have to be very smart about hiring plumbers. Some plumbers aren't really plumbers and are only out to take your money after doing a shoddy job. There are so many traveling trades con men out there these days, and you certainly wouldn't want to fall victim to their shenanigans.
Here are Some Tips on How to Hire a Plumber Wisely.
Ask for Proper Licences
This is one of the very first things you need to do to hire a plumber wisely. You have to make sure that the plumber has the license to perform plumbing jobs in your area. Aside from being proof that the person actually knows how to install or fix plumbing, a license is also your assurance that any work the plumber does is done according to the latest building codes. You wouldn't want to be hiring a plumber who does not have a license, because it does not provide you any kind of protection in case there is something wrong with the work already done.
Check for Plumbing Experience
Let's say that the professional emergency plumber you're talking to is indeed licensed, which means the plumbing skills are already there. The question is, is there enough experience to give customers the assurance that the job will be done efficiently and effectively? When talking to a prospective plumber, you need to ask the person how long he or she has been in the plumbing business. To be fair, plumbers who are skilled but lack experience can probably do a plumbing job right, but a plumber with ample experience will always be the better choice if you want to hire a plumber wisely.
Ask for references
A plumber may be skilled and experienced, but you're not sure about the person's character or work attitude. You could be hiring a plumber who doesn't show up for work on time or doesn't clean up after the work is done. Worse, you could be hiring a plumber who treats customers with a certain amount of rudeness. To make sure that you'll be hiring a plumber who is a consummate professional in all respects, ask a prospective plumber for references, particularly past customers. Former clients won't hesitate to provide you information about the plumber and the quality of his or her work. If the plumber is confident he or she has always done good work, handing out references should not be a problem.
Make Sure the Plumber has Insurance
Do not hire a plumber who has no insurance, because both of you won't have any form of protection in case of an injury or an accident while the job is being done in your home. Insurance also protects you from any damages a plumber may cause while working.
Follow the tips above, and you just might find a plumber whom you will call upon for plumbing jobs for the foreseeable future.