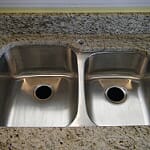 Few home design ideas are as pleasing to the eyes as a kitchen sink that is mounted underneath a granite countertop. With its clean lines, an undermount sink certainly makes a lovely addition to any kitchen.
The thing with an under-mount sink with a granite countertop, however, is that once the granite is cut, the sink stays, and if you choose so, for a very long time. But what if you feel the need to replace the undermount sink for one reason or another? Is replacing an undermount sink without breaking the granite countertop even possible?
Risks and Possibilities of Replacing the Undermount Sink
Apparently, you can, but you have to be ready to face certain risks and possibilities if and when you decide to push through with replacing the undermount sink anyway.
Let's say for instance that your under-mount sink has a lip that is snugly tucked under a cabinet's walls. If this is the case, the countertop has to be lifted. That, however, exposes you to the risk of breaking the granite countertop. Always keep in mind that if you really want to replace the undermount sink, make sure you are ready for the possibility that the granite countertop might break, and that you are willing and able to replace it should that happen.
If silicone was used to glue down your under-mount sink, then you have another problem. Silicone can become notoriously strong after years of setting. The stronger the silicone bond, the harder it would be to remove the sink without causing your granite countertop some damage. While old silicone bonding can be removed using a knife, there are certain spaces that won't allow you to do this without actually lifting the granite countertop.
You may also face some problems getting the undermount sink out of the cabinet even after you do manage to remove its silicone bonding. Space is just too small, and the sink will simply not be able to turn there for removal. Again, that would entail lifting the granite countertop, which brings us back to the risk of breaking it.
Consult Plumbing and Granite Professionals First
Before making a decision to replace your under-mount sink, it is always best to get the opinion of a professional plumber Sydney. Better yet, get the opinion of a granite professional. While we're not suggesting that replacing an undermount sink without breaking the granite countertop is impossible, the opinion of the above-mentioned experts can at least help you make an informed decision before you push through with your project and all its attendant risks.
Should you decide to remove the granite countertop and it breaks, then you should take the opportunity to build an under-mount sink that will suit your tastes better. Make sure you choose the perfect under-mount sink to go with a granite countertop that you love so you won't have to go through the hassle of replacing it again, at least not for a long time.