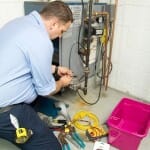 Everyone knows that the price of electricity seems to be going nowhere but up. For this very reason, more and more homeowners are now going for electric to gas conversion to keep their homes warm and comfortable during the cold winter months.
For sure, gas heaters are a great alternative to electric heaters, particularly when the gas heater is powered by natural gas. Natural gas burns very cleanly and does not produce any odor when in operation. It's also relatively cheaper. However, there are a number of things that a homeowner should consider before switching from electric to gas heating. Here are some of them.
Is Natural Gas readily available in your area?
If you're planning on making an electric to gas conversion, natural gas is the natural way to go. However, before you finalize your plans, you need to see if natural gas is readily available in the general vicinity. If not, then you may have to do extra work on the property, and extra work means extra costs. If your home currently has no natural gas line, you need to have one installed inside your home, or you may need to have a natural gas tank installed to run into your home. To be perfectly honest, it's going to take a bit of an investment, but the investment will certainly be worth it in the long run.
Is your current HVAC Equipment easily convertible?
An electric to gas conversion can be easy with many types of HVAC equipment, but some aren't easily convertible. If your HVAC system cannot be easily converted, you may have to upgrade some parts of it. Your furnace, for instance, may be too old to make the switch without any replacements or upgrades are done.
Know Regulations and Codes in your area
When a house is being built, homeowners have to comply with several electrical and gas requirements by the city or state. Regulations and codes may vary from place to place, but one thing is for sure: Before you can proceed with an electric to gas conversion, you need to be updated with the current regulations and codes in your area so that any changes you make will be in compliance with the law.
There is no doubt that when making an electric to gas conversion, you have to be prepared to make a little investment in order to make your home capable of gas heating. However, keep in mind that whatever money you spend on the electric to gas conversion, your savings on your energy bills will be significantly higher in the long term.
In case you are pushing through with an electric to gas conversion, always remember that we at Beez Neez Plumbing are here if you need any help installing a natural gas line or upgrading your equipment. Don't forget that we are just one phone call away, and we'll be sending people with the necessary skills, experience, and tools to help you in switching from electric to gas heating in the fastest and most efficient way possible.